[et_pb_section admin_label="section" transparent_background="off" allow_player_pause="off" inner_shadow="off" parallax="off" parallax_method="on" padding_mobile="off" make_fullwidth="off" use_custom_width="off" width_unit="off" custom_width_px="1080px" custom_width_percent="80%" make_equal="off" use_custom_gutter="off" fullwidth="off" specialty="off" disabled="off"][et_pb_row admin_label="row" make_fullwidth="off" use_custom_width="off" width_unit="off" custom_width_px="1080px" custom_width_percent="80%" use_custom_gutter="off" gutter_width="3″ padding_mobile="off" allow_player_pause="off" parallax="off" parallax_method="on" make_equal="off" column_padding_mobile="on" parallax_1="off" parallax_method_1="on" parallax_2="off" parallax_method_2="on" parallax_3="off" parallax_method_3="on" parallax_4="off" parallax_method_4="on" disabled="off"][et_pb_column type="4_4″][et_pb_slider admin_label="Slider" show_arrows="off" show_pagination="off" auto="off" auto_speed="3500″ auto_ignore_hover="off" parallax="off" parallax_method="off" remove_inner_shadow="off" background_position="default" background_size="default" hide_content_on_mobile="off" hide_cta_on_mobile="off" show_image_video_mobile="off" custom_button="off" button_letter_spacing="0″ button_use_icon="default" button_icon_placement="right" button_on_hover="on" button_letter_spacing_hover="0″ disabled="off"] [et_pb_slide button_link="#" background_image="https://mlr2rl12szpt.i.optimole.com/SVRjJpc-OUBxW4QO/w:auto/h:auto/q:90/https://fivesensesrewilding.com/wp-content/uploads/2017/03/Ring-of-Brodgar-in-sunshine.jpg" background_position="default" background_size="default" background_color="#ffffff" use_bg_overlay="off" use_text_overlay="on" alignment="center" background_layout="dark" allow_player_pause="off" text_border_radius="3″ header_font="||||" body_font="||||" custom_button="off" button_font="||||" button_use_icon="default" button_icon_placement="right" button_on_hover="on" disabled="off" header_font_select="default" body_font_select="default" button_font_select="default" heading="Walk amongst the Standing Stones"] [/et_pb_slide] [/et_pb_slider][/et_pb_column][/et_pb_row][et_pb_row admin_label="Row" make_fullwidth="off" use_custom_width="off" width_unit="off" custom_width_px="1080px" custom_width_percent="80%" use_custom_gutter="off" gutter_width="3″ padding_mobile="off" allow_player_pause="off" parallax="off" parallax_method="on" make_equal="off" column_padding_mobile="on" parallax_1="off" parallax_method_1="on" parallax_2="off" parallax_method_2="on" parallax_3="off" parallax_method_3="on" parallax_4="off" parallax_method_4="on" disabled="off"][et_pb_column type="2_3″][et_pb_text admin_label="Text" background_layout="light" text_orientation="left" use_border_color="off" border_style="solid" disabled="off" inline_fonts="Abel" border_color="#ffffff"]
Time travel to the ancient past
Like stepping through a gateway of standing stones, travel back in time to taste, touch, smell, hear and see how people lived 5,000 years ago. Relax into the wide open skies, sandy beaches, heather-clad hills, and striking cliffs of Orkney, a chain of islands in the far north of Britain.
With World Heritage sites such as the Ring of Brodgar standing stones and the Stone Age village of Skara Brae, Orkney culture is older than the pyramids.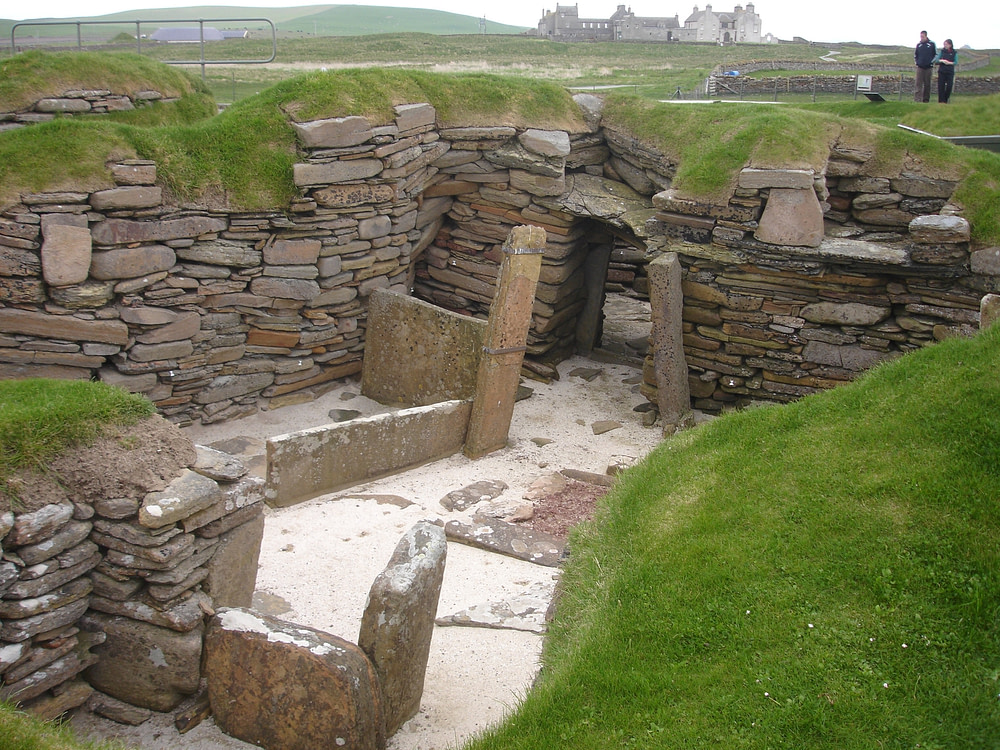 But the culture lives on in the present day, something you will get to experience during our 6-day Orkney walking tour which starts in Inverness and ends in Kirkwall, the capital town of Orkney.
Our tour takes us past some of the most iconic sites in Scotland, starting from Inverness and including the Highland site of Clava Cairns.
Once you arrive in Orkney,  you will experience the ancient past in a tangible way, starting with the World Heritage sites of Maes Howe, Ring of Brodgar and the Standing Stones of Stenness. We will visit the Ness of Brodgar archaeological dig site, and a hidden gem, Cuween Hill, an ancient chambered cairn that you may decide was a burial ground, spiritual gathering site, or concert hall.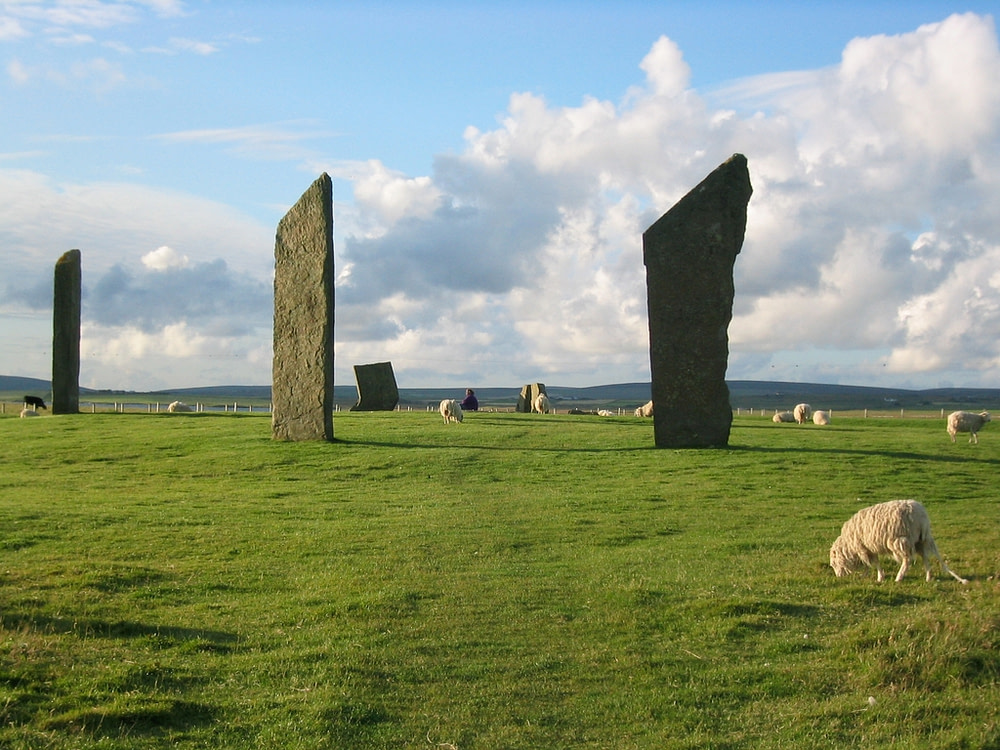 Bring the guidance of the past into your modern life
Another goal of our tour is to give you an experience that will shape how you live when you go back home. People come from all over the world to Orkney to escape the hectic pace of their lives at home and enjoy a place where they can get perspective and reconnect with the things that truly matter.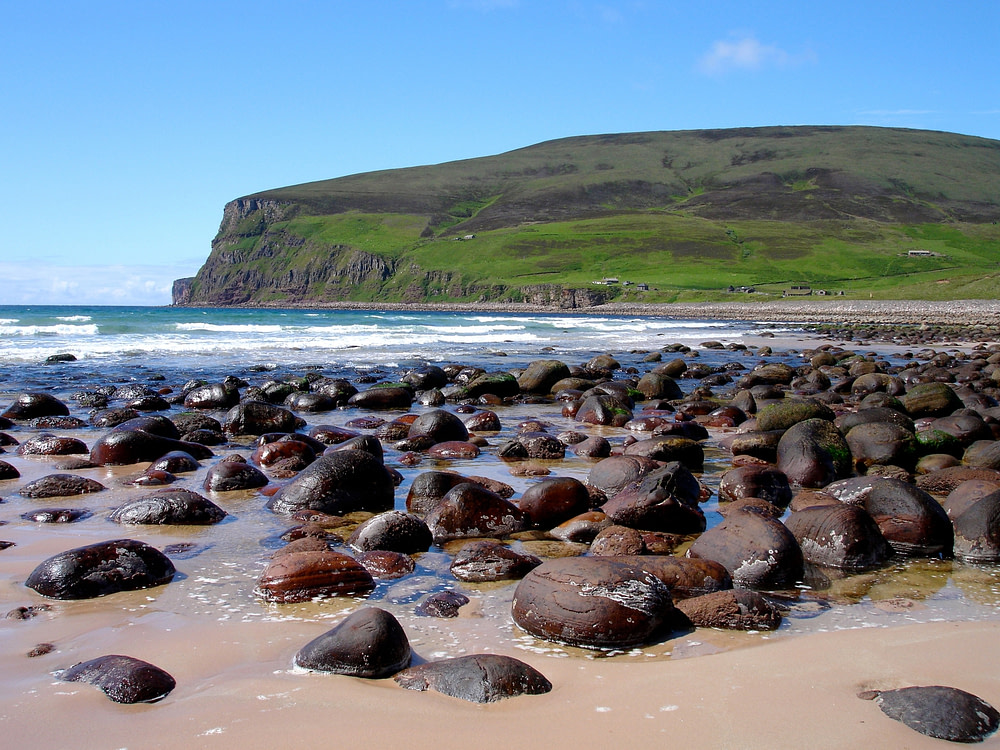 Sometimes we can feel unsure of how to proceed, of which direction to take. By experiencing how ancient peoples lived, by walking along the coastline, feeling the salt spray, sampling foraged food, we do what our ancestors did. We connect with our past, with the way our ancestors lived across the world, regardless of where we come from.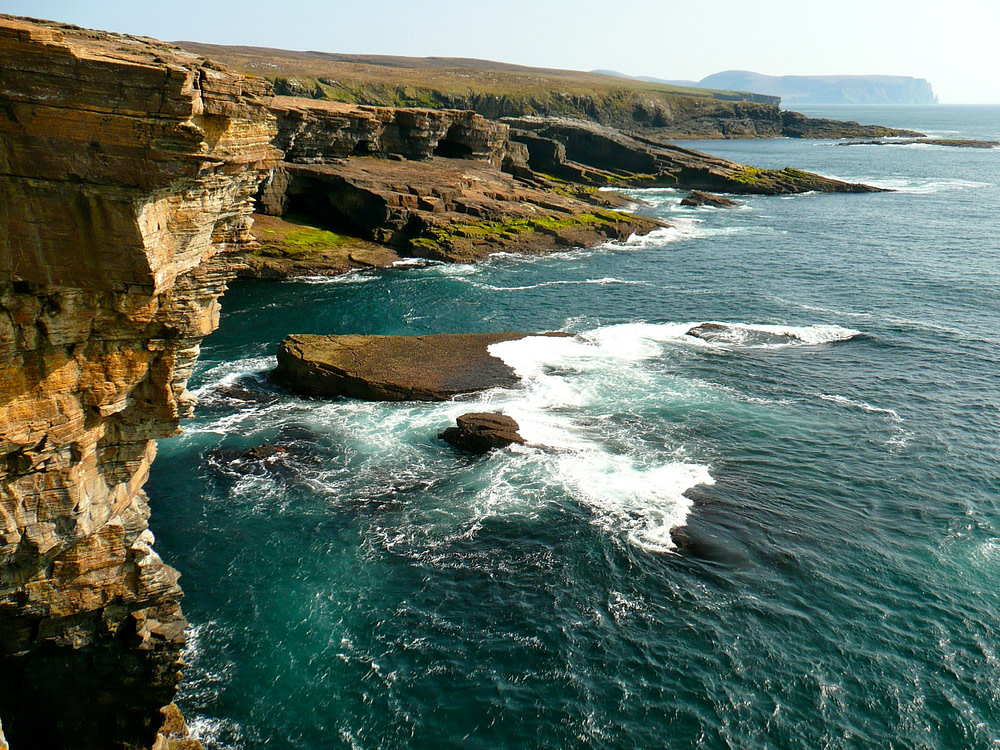 We will not only walk as the ancient peoples did, but we will forage for plants, learn to make fire by friction, learn to navigate by the sun and stars, make cordage and beachcomb — and for the brave, taste raw seafood.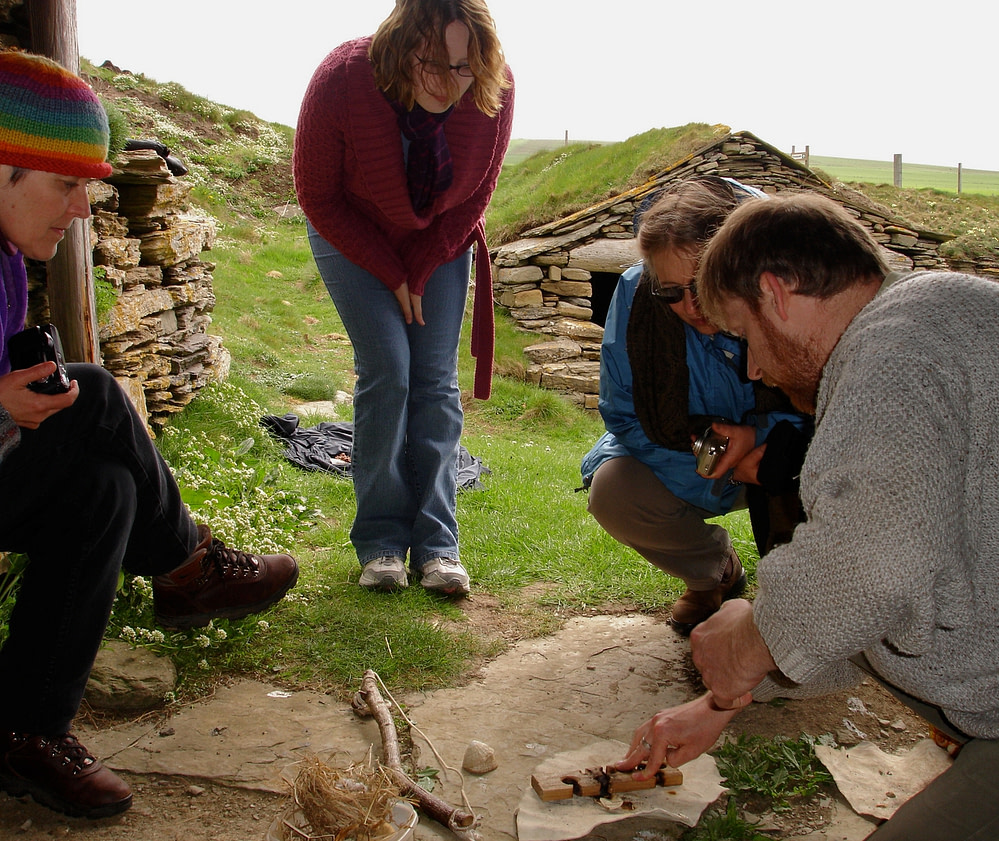 As we follow a coastal path above rocky cliffs washed by waves, and watch seabirds including puffins, fulmars and cormorants, you will decompress from the stress of urban life. We will pass sea stacks and the Outrun, made famous in Amy Liptrot's bestselling book of that name.
Savour the feeling that there's all the time in the world.
Savour big skies, crisp air and glorious beaches
From the Orkney Mainland, we will be traveling to the more remote islands of Hoy, Westray and Papa Westray. On Hoy we will take a very special walk through the heather and the most northerly native woodland in Britain, arriving in the magical village of Rackwick which could easily double as Brigadoon.  Enjoying stunning beach between cliffs, we can walk up the hillside to sit beside the Old Man of Hoy, lie in the heather and sunbathe, or play on the beach.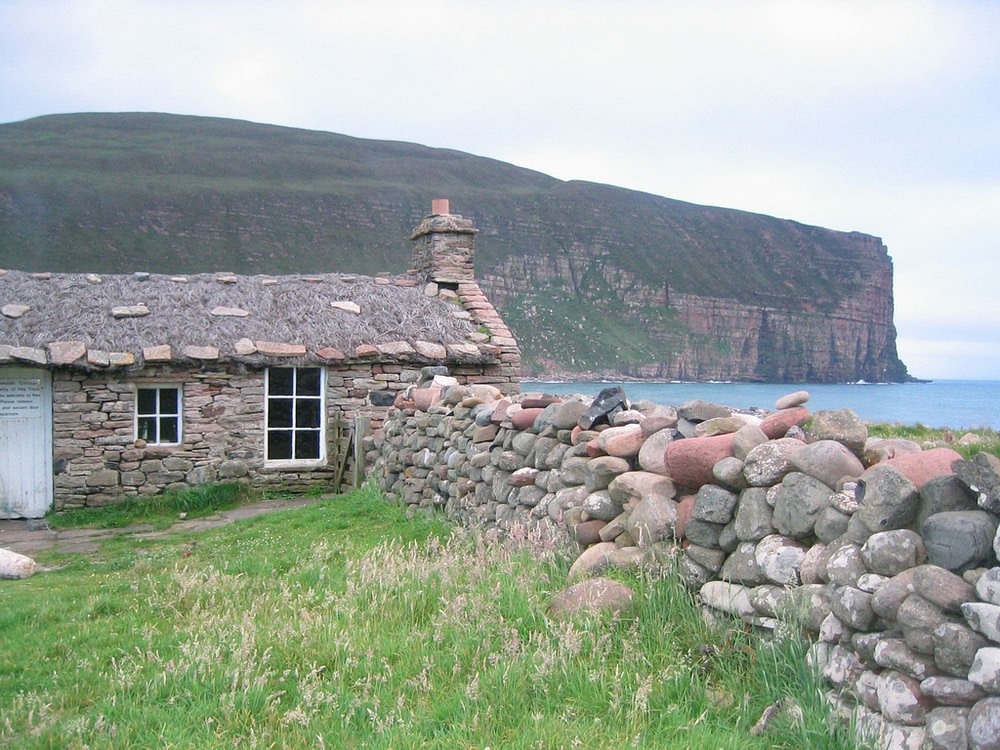 On the island of Papay, we'll visit the Knap of Howar, the oldest home in the UK, 500 years older than Skara Brae. Home of the rare Primula Scotica plant, Papay is one of the delights of the week and our walks are usually shared with inquisitive seals or a relaxed chat with a crofter. This is a place to slow down and probably contemplate staying forever.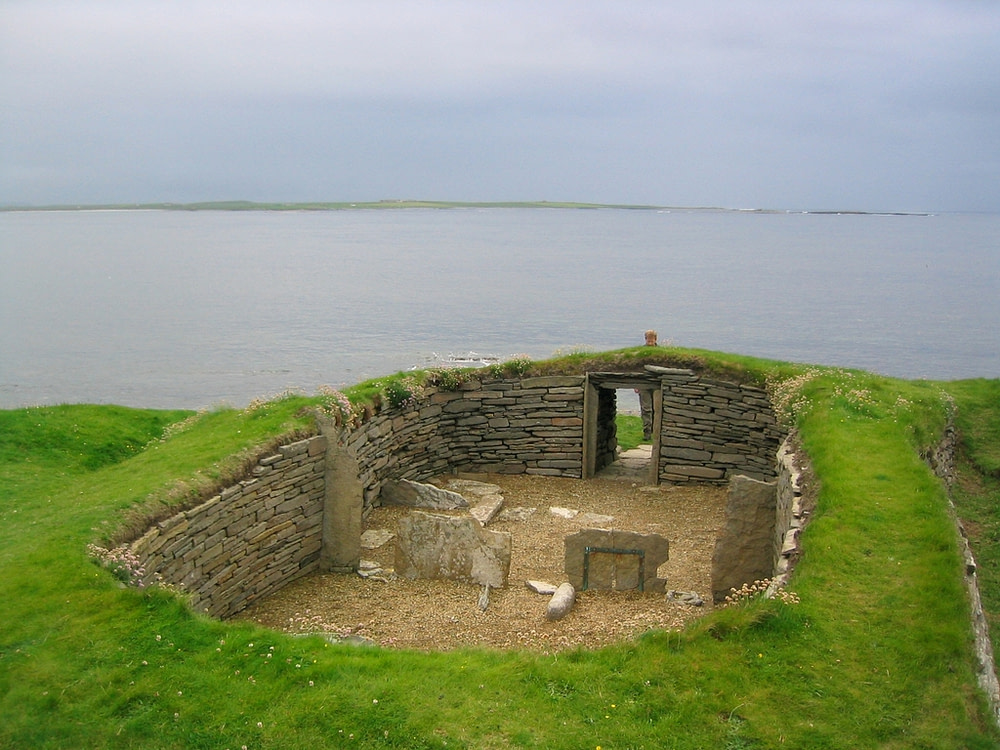 Finally we return to Kirkwall, enjoying the shops, St. Magnus Cathedral and museums located in Orkney's capital town.
The tour ends here in Kirkwall but we can also provide assistance with return to Inverness or further south, as well as optional itineraries for Shetland.
Accommodations and interacting with local culture
Become part of the communities you travel through, not an observer of them as you chat with locals on the bus services. They get to meet you and thus learn more about your part of the world as well.
We believe in exploring any destination with all our senses, not being stuck in generic hotels and predictable restaurants. For these reasons we also stay in the best hostels and self-catering cottages. We can buy local foods from community shops and cook as our diets desire, or you can eat out when you prefer.
We use only private bedrooms so no sharing with strangers because, while it's great to meet people when you feel like it, it's also essential to be able to relax and have time to yourself and to get a good night's sleep!
Eat and cook the best foods Orkney has to offer
We show you the places to buy local foods of amazing quality and take you only to the best of the best. Having worked as cook for decades, Malcolm is passionate about high quality produce and how to cook these to subtly enhance flavours. Orkney must be explored with our taste buds as well as our eyes.
We support small, local shops and get to taste our way around Orkney.
Some of the special foods available are: Bere Bannocks, crab meat, cheeses, beef, fish, Ice creams, Seaweed 'caviar', beers and whisky. oatcakes and breads, free range eggs seasonal vegetables.
There are also shops selling tofu, gluten free products and a very cosmopolitan selection. Many people living in Orkney have interest in the world and this is reflected in the music, food and culture.
Accessibility and fitness
Persons not wishing to complete all the walks (a more detailed walk itinerary can be provided) may also sometimes miss out on site visits (for example Birsay or Kirbuster Farm) as we use our legs as transport. However, anyone can have an off day, a minor injury or just not feel up to it on the day. In these cases, the person will be treated with respect and understanding and alternatives will be arranged (temporarily outwith the tour). This flexibility can be especially helpful when partners have different abilities or interests.
For this reason, the tour is accessible to those with average fitness. It is not suitable to persons unable to walk and guests must be able to carry their own luggage. We strongly encourage you to use a rucksack, not a suitcase, and to have a small day pack for carrying lunch and waterproof etc. Visual and audio limitations are fine.
Persons with health issues should speak with Malcolm, to see how these might impact on the tour and require special consideration.
Why we're using public transport
By taking public transport, we get to move at a less frenetic pace, interacting with local people in a way that can't happen on private coaches and cars. We get the best views from the windows of trains and coaches, elevated above the height of other traffic.
We are also supporting rural communities by using the subsidised buses and ferries, helping to keep services running for people living in these isolated locations, who can then reduce their use of private cars, reduce their carbon footprint and remain living in these islands.
[/et_pb_text][et_pb_divider admin_label="Divider" color="#8e8e8e" divider_style="solid" divider_position="top" divider_weight="1px" hide_on_mobile="on" disabled="off"] [/et_pb_divider][et_pb_text admin_label="Text" background_layout="light" text_orientation="left" use_border_color="off" border_style="solid" disabled="off" border_color="#ffffff"]
Itinerary
Bonus: A pre-tour, self-guided itinerary for the Highlands and Inverness area will be offered to all guests on this tour.
Day 1: Inverness to Stromness, Orkney
Train to Orkney

Highland scenery

Clava Cairns

Culloden Battlefield

Pentland Firth
Hoy cliffs

Stromness
Day 2: West coast walk to Birsay
Skara Brae Neolithic Village

dramatic clifftop walk and 

the Outrun
Marwick Head
Birsay, Earl's Palace
Brough of Birsay

Kirbuster Farm Museum
Day 3: Island of Hoy
ferry to Hoy

North Hoy Nature Reserve

walk to Rackwick village

Old Man of Hoy

Dwarfie Stane

Stromness

ancient firemaking
Day 4: World Heritage Heart of Neolithic Orkney
Standing Stones of Stenness

Ring of Brodgar

Ness of Brodgar archaeology dig site

Barnhouse village

Maes Howe chambered cairn

Cuween Hill

ferry through islands to Westray
Day 5: Island of Papa Westray
ferry to Papa Westray

Knap of Howar Neolithic site

St Boniface Kirk

Heritage Centre

beach walks
wild food foraging
Day 6: Kirkwall
Explore Isle of Papa Westray

Bothy Museum

Small boat to Holm of Papay chambered cairn (optional)

St Magnus Cathedral

Kirkwall Museum

Earl's Palace

Highland Park distillery (optional)

Scapa Flow, Italian Chapel (optional)
End of tour in Kirkwall. Note: The tour is designed with flexibility to enable those wishing to travel to Shetland, return to Scotland or remain in Orkney longer.
[/et_pb_text][et_pb_gallery admin_label="Gallery" gallery_ids="743,740,739,737,734,733,738,730″ fullwidth="off" posts_number="8″ show_title_and_caption="on" show_pagination="off" background_layout="light" auto="off" auto_speed="7000″ use_border_color="off" border_color="#ffffff" border_style="solid" disabled="off" gallery_orderby="rand" hover_overlay_color="rgba(255,255,255,0.9)"] [/et_pb_gallery][et_pb_text admin_label="Text" background_layout="light" text_orientation="left" use_border_color="off" border_color="#ffffff" border_style="solid"]
Need advice for post-tour options? Or more detailed information about the itinerary, walks and accommodation? For an information pack, contact us now.
[/et_pb_text][et_pb_cta admin_label="Call To Action" title="Details" button_url="https://fivesensesrewilding.com/contact-us/" url_new_window="off" button_text="Book or Enquire" use_background_color="on" background_color="#991d52″ background_layout="dark" text_orientation="left" use_border_color="off" border_color="#ffffff" border_style="solid" custom_button="off" button_letter_spacing="0″ button_use_icon="default" button_icon_placement="right" button_on_hover="on" button_letter_spacing_hover="0″ disabled="off"]
Sunday 2 July – Friday 7 July, 2017
or
Sunday 17 September – Friday 22 September, 2017
Start location: Inverness
End location: Kirkwall, Orkney
Price: £775/person
6 days, 5 nights
single supplement of £50
Price Includes:
5 nights' accommodation
all transport
all entry fees
professional walking guide
craft instruction
Orkney local guide
[/et_pb_cta][/et_pb_column][et_pb_column type="1_3″][et_pb_cta admin_label="Call To Action" title="Details" button_url="https://fivesensesrewilding.com/contact-us/" url_new_window="off" button_text="Book or Enquire" use_background_color="on" background_color="#991d52″ background_layout="dark" text_orientation="left" use_border_color="off" border_color="#ffffff" border_style="solid" custom_button="off" button_letter_spacing="0″ button_use_icon="default" button_icon_placement="right" button_on_hover="on" button_letter_spacing_hover="0″ disabled="off"]
Sunday 2 July – Friday 7 July, 2017
or
Sunday 17 September – Friday 22 September, 2017
Start location: Inverness
End location: Kirkwall, Orkney
Price: £775/person
6 days, 5 nights
single supplement of £50
Price Includes:
5 nights' accommodation
all transport
all entry fees
professional walking guide
craft instruction
Orkney local guide
[/et_pb_cta][/et_pb_column][/et_pb_row][/et_pb_section]