Come along with us on a virtual walk to one of our favourite places: Glamis Castle. Only unlike most visitors, you won't be going through the main entrance. Instead we're going to take a secret way that only locals know about!
Hidden Gem walks: A virtual tour of our favourite walks
This is the first post in a series of Hidden Gem Walks we'll be sharing with you, all designed to give you a peek into the sensory delights of the outdoors.
We venture out into Perthshire and Angus regularly and are always astounded at the beauty, natural and in the form of castles, stately homes and cottages. So we thought we'd start sharing our adventures with you so you too could enjoy what we discover. Most the walks are hidden gems, meaning we usually see few people, if any, so there's this sense of discovery every time, as if we are some of the first people to stumble into these magical places.
One of our main teaching goals is to help you learn to connect to nature through your senses and the very best way to do that is simply pay attention to what grabs your interest, what makes you smile.
So often, a walk can be about just getting to a destination, and whilst we like arriving at a cafe or mountaintop, we also like to savour the mini-experiences we have along the way. So see what part of this walk you most enjoy — what makes you smile? Where are you inclined to linger?
Now, let's get going.
We've parked up the car in the village of Glamis, and there's this unobtrusive entrance that beckons us in.
 Once we step between the hedge, we're onto a 'core path', which are walking routes throughout Scotland that are required by law to be accessible to the public. This route tends to be popular with local dog walkers, so may see one or two along the way.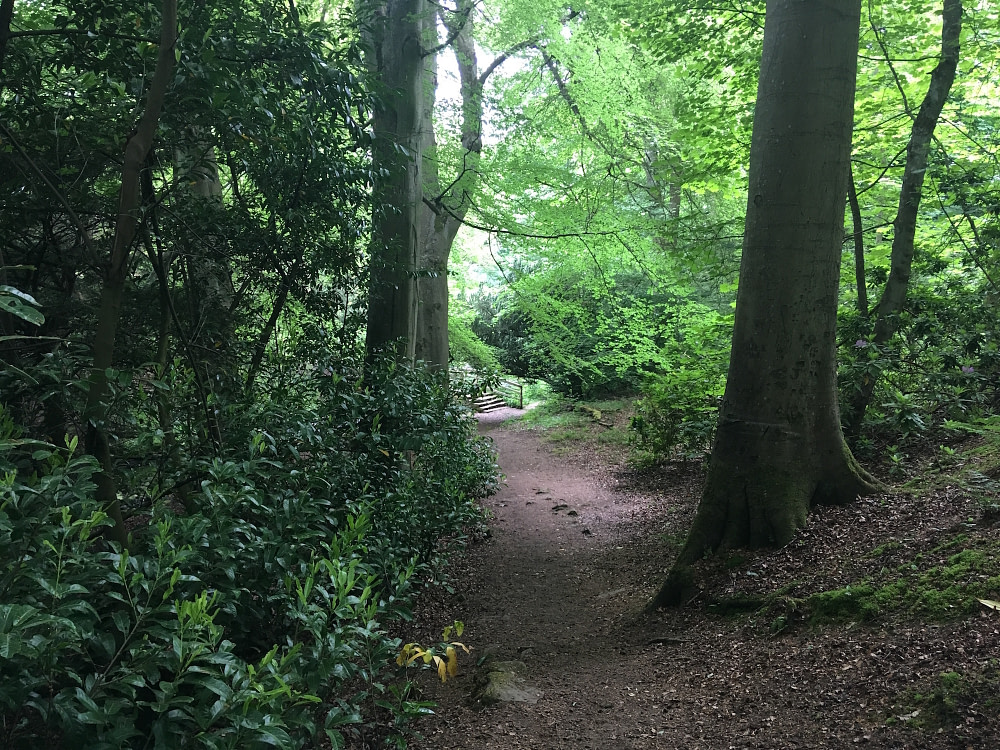 One of the best parts of the walk is the pungent smell of the pine trees and the rich, earthy aroma of moss. The birds twitter away, their song accompanying the babble of the burn that runs alongside the whole path.
On another day, we'll cross the bridge and visit the stone church and cemetery on the other side. It's a charming spot, but today we want to get to Glamis Castle and its grounds. One last bridge to cross…
They've added something new since we were last here: a Macbeth sculpture trail, celebrating Shakespeare's mentioning of Glamis in his play Macbeth. In the play, Macbeth is the 'thane of Glamis' — i.e., the ruler of the Glamis region.
Rachel has read the annotated version of the play, and what she likes is its magical aspects. Of course when it was written, magic was a deeply terrifying and unpleasant thing, to be avoided at all costs. Witches were creatures to be feared, without any of the charm or positive connotations of their modern day counterparts.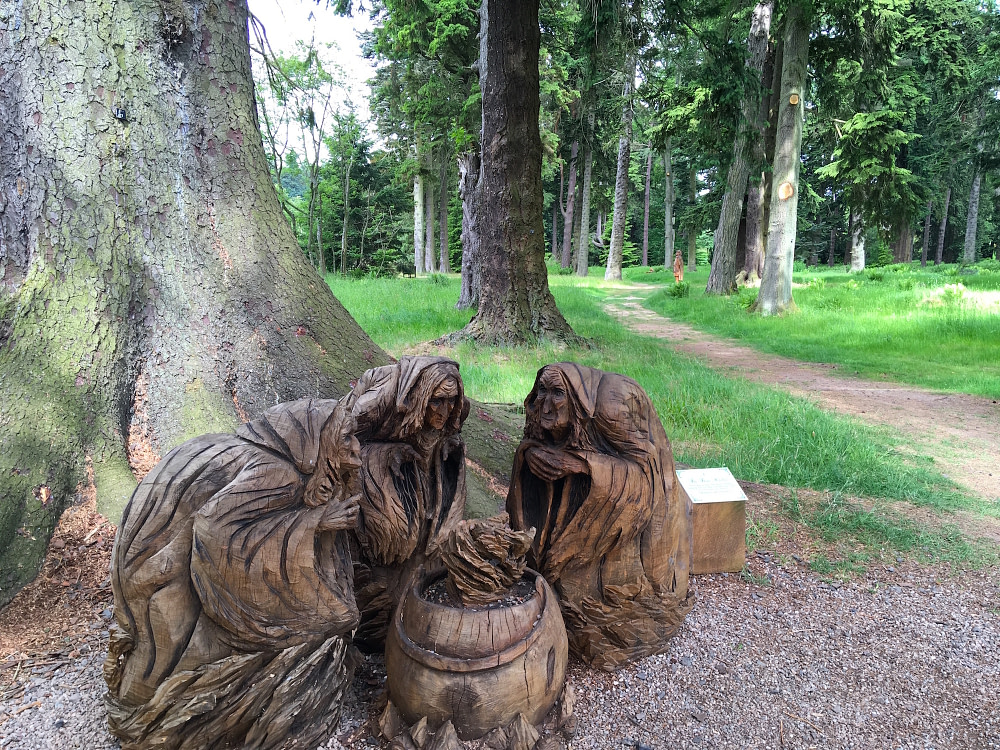 Look at how they've carved the fire with its swirls, and the witches themselves are surrounded by swirls of movement. This sculpture is at the beginning of the 'Pinetum', an area of pine and coniferous trees planted some two hundred years ago. It's the most peaceful place on the grounds, and we like to have picnics here.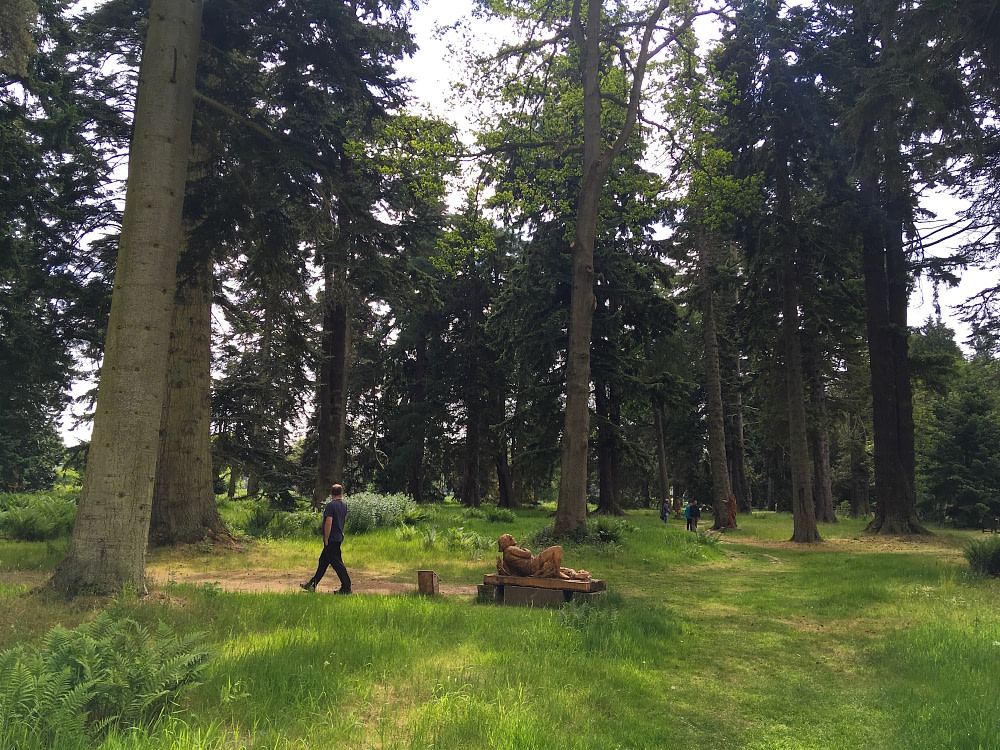 After inhaling as much of the delicious scent of pine as possible, we notice we're getting thirsty. So, stomachs rumbling, we start to head towards the cafe. Malcolm lingers a bit longer in the trees.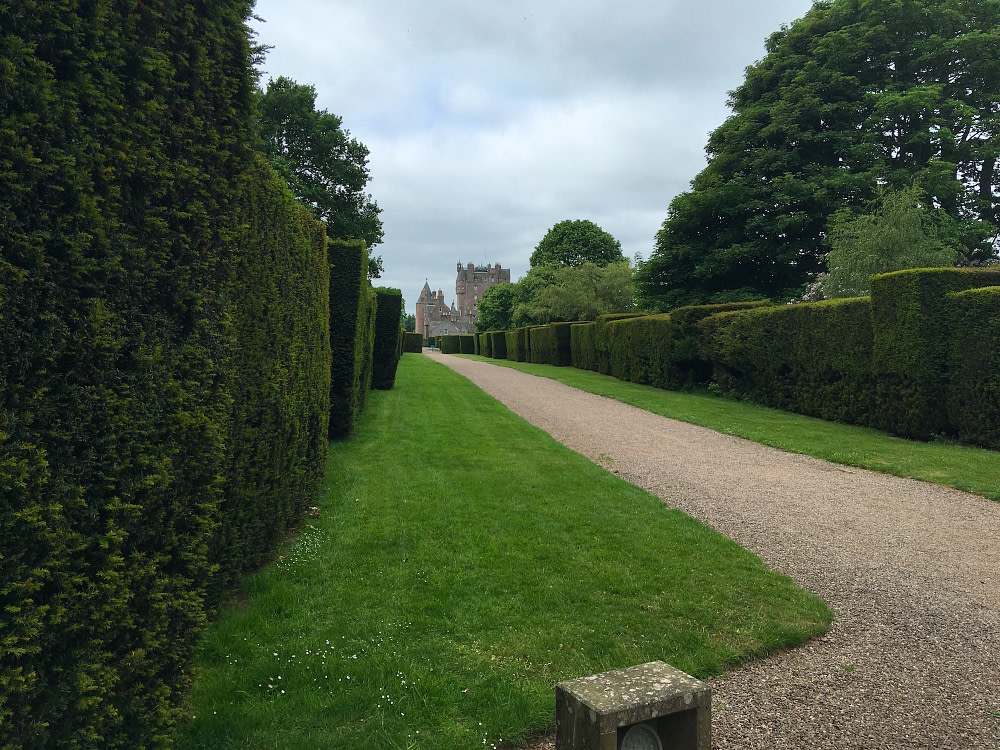 We stroll past the beginnings of the formal gardens, getting a glimpse of the castle in the distance.
At last we arrive at one of Rachel's favourite parts of any walk: eating and drinking. We've just managed to miss the coachloads of people who periodically descend on the cafe, so there's plenty of room to sit down. We prefer the couches next to the woodburning stove on the left.
We settle down to people watch, admiring all the copper pots and pans bedecking the walls.
When we came here for the first time several years ago, Rachel felt a bit nervous, as if she should be dressed up to be sitting in such a grand place. Castles weren't part of her everyday experience, being American, and there were some remnants of deference lying around from watching too many Downtown Abbey episodes. So she used to dress up, which is what many of the visitors here do.
Happily, we've been to castles hundreds of times over the years, and of course, we live in one. That changes your perspective. You start to realise that all of these were built with other people's labour, and being an owner means that hundreds of years ago, your ancestor sucked up to the king and he gave you all this in return. And that one piece of luck has been bearing fruit for your family, generation after generation, for centuries since. It's hardly something to be proud of since you had nothing to do with it.
Nevertheless, the castles and their gardens are beautiful creations, protected from development and so seemingly immune to change and we enjoy visiting. Inevitably, we get into philosophical discussions about class, entitlement and How the World Should Be, but it's always a fun and lively discussion.
Now, our teas drunk and lively discussions drawn to a close, it's time to start heading back. We'll just walk in front of the castle to appreciate the stonework.
It's beautiful, isn't it?
The tour only takes you to 9 rooms or so, so we rarely do it. Not to mention, it's costs £12.50/person. So it's the grounds that draw our attention year after year.
You have to wonder: who lives here? Do they have tenants, like Bamff, or is it just one family occupying all those rooms? Do they live here all the time, or mostly in London or another country, as many estate owners do?
Now we'll stroll past the gate to the walled garden — no time to visit there today, so it will have to wait for another day — and over the bridge back towards the Pinetum.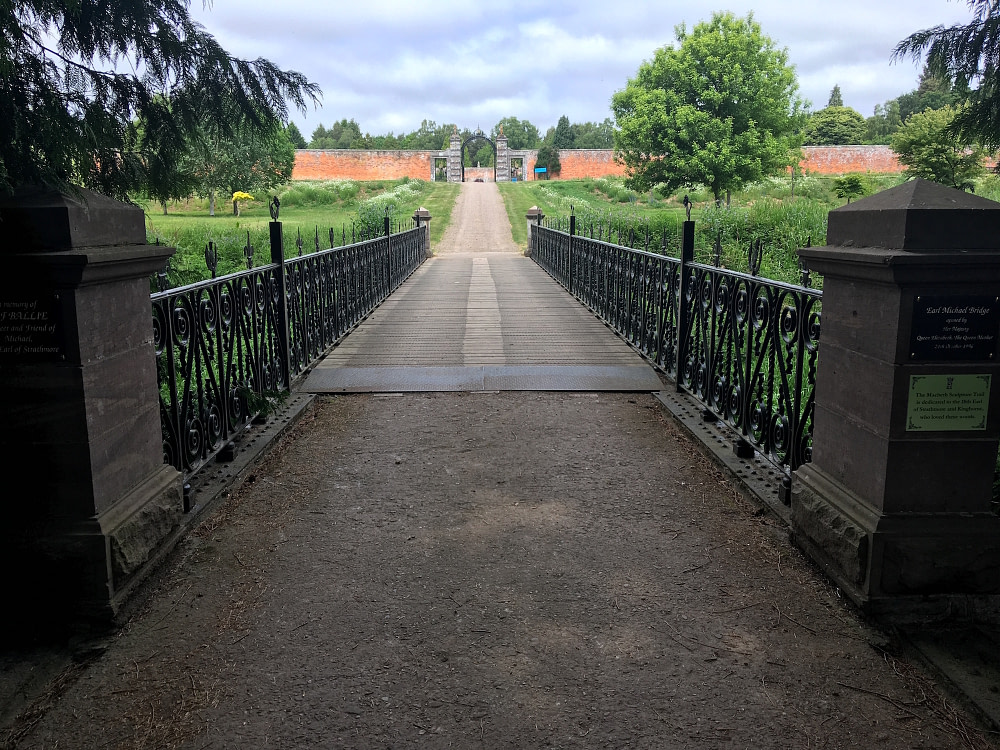 We'll stroll back the way we came, back up the core path into the village of Glamis. The sun is beating down, so the light plays on the water of the stream and we stop to relax by it for a few minutes. We'll say goodbye to you here and look forward to seeing you on our next Hidden Gem Walk!