[et_pb_section admin_label="section" transparent_background="off" allow_player_pause="off" inner_shadow="off" parallax="off" parallax_method="on" padding_mobile="off" make_fullwidth="off" use_custom_width="off" width_unit="off" custom_width_px="1080px" custom_width_percent="80%" make_equal="off" use_custom_gutter="off" fullwidth="off" specialty="off" disabled="off"][et_pb_row admin_label="row" make_fullwidth="off" use_custom_width="off" width_unit="off" custom_width_px="1080px" custom_width_percent="80%" use_custom_gutter="off" gutter_width="3″ padding_mobile="off" allow_player_pause="off" parallax="off" parallax_method="on" make_equal="off" column_padding_mobile="on" parallax_1="off" parallax_method_1="on" parallax_2="off" parallax_method_2="on" parallax_3="off" parallax_method_3="on" parallax_4="off" parallax_method_4="on" disabled="off"][et_pb_column type="4_4″][et_pb_slider admin_label="Slider" show_arrows="off" show_pagination="off" auto="on" auto_speed="3500″ auto_ignore_hover="off" parallax="off" parallax_method="off" remove_inner_shadow="off" background_position="default" background_size="default" hide_content_on_mobile="off" hide_cta_on_mobile="off" show_image_video_mobile="off" custom_button="off" button_text_size="20″ button_letter_spacing="0″ button_use_icon="default" button_icon_placement="right" button_on_hover="on" button_letter_spacing_hover="0″ disabled="off"] [et_pb_slide heading="Explore magical places" button_link="#" background_image="https://mlr2rl12szpt.i.optimole.com/SVRjJpc-ZMpi52zS/w:auto/h:auto/q:90/https://fivesensesrewilding.com/wp-content/uploads/2016/10/Hermitage-bridge-landscape.jpg" background_position="default" background_size="default" background_color="#ffffff" use_bg_overlay="off" use_text_overlay="on" alignment="center" background_layout="dark" allow_player_pause="off" text_border_radius="3″ header_font="||||" body_font="||||" custom_button="off" button_font="||||" button_use_icon="default" button_icon_placement="right" button_on_hover="on" disabled="off"] [/et_pb_slide][et_pb_slide heading="Immerse yourself in Scotland" button_link="#" background_image="https://mlr2rl12szpt.i.optimole.com/SVRjJpc-4XbhggrP/w:auto/h:auto/q:90/https://fivesensesrewilding.com/wp-content/uploads/2016/10/Glamis-Castle-1100.jpg" background_position="default" background_size="default" background_color="#ffffff" use_bg_overlay="off" use_text_overlay="on" alignment="center" background_layout="dark" allow_player_pause="off" text_border_radius="3″ header_font="||||" body_font="||||" custom_button="off" button_font="||||" button_use_icon="default" button_icon_placement="right" button_on_hover="on" disabled="off"] [/et_pb_slide] [/et_pb_slider][/et_pb_column][/et_pb_row][et_pb_row admin_label="Row" make_fullwidth="off" use_custom_width="off" width_unit="off" custom_width_px="1080px" custom_width_percent="80%" use_custom_gutter="off" gutter_width="3″ padding_mobile="off" allow_player_pause="off" parallax="off" parallax_method="on" make_equal="off" column_padding_mobile="on" parallax_1="off" parallax_method_1="on" parallax_2="off" parallax_method_2="on" parallax_3="off" parallax_method_3="on" parallax_4="off" parallax_method_4="on" disabled="off"][et_pb_column type="2_3″][et_pb_text admin_label="Text" background_layout="light" text_orientation="left" use_border_color="off" border_style="solid" disabled="off" inline_fonts="Abel" border_color="#ffffff"]
A life-changing experience in Scotland
This Scotland cultural tour is the culmination of years exploring Scotland's every nook and cranny. Of taking guests, friends and family to places that fill them with delight and wonder. All that knowledge has led to the development of our Wayfinder Experience and we couldn't be more excited to share this with you.
Every part of the cultural tour Scotland experience will stimulate your senses, from the taste of the foods you eat on our picnic to the smells of the fire we gather around after the day is done.
Over the course of 3 days and 2 nights, you will immerse yourself in some of the most extraordinary places of Scotland — from Glamis Castle (of Macbeth fame and home to the late Queen Mother) to standing stones that few know of but look as if they've come straight from Outlander.
Each place we visit conveys both a unique aspect of Scotland and a delight to a particular sense. For example, you can visit the cottage workshop of an artisan chocolatier who infuses her single estate chocolates with herbs and plants gathered right outside her doorstep, tasting the chocolate whilst learning about the local environment.
Or how about walking through ancient Scottish dwellings and charming villages, your footsteps on creaking floorboards, the smells of moss growing on stones? You will experience a slice of an authentic Scotland that lives and breathes beneath the tartan and bagpipe tourism (which we love, but there's so much more to Scotland than that!).
Come explore the very best places in Scotland — all whilst avoiding the hassle of driving and fighting of crowds.
Finally, at night you can relax in a cottage or luxury yurt on a 14th century castle estate whose beauty, ancient history and tranquillity will send you back in time as if you've stepped through a portal. Bamff Estate is 1300 acres in eastern Perthshire, and a haven for wildlife: beavers, otters, deer, many birds and even not-so-wild peacocks.
Learn life skills
As well as experiencing some of the most magical places in Scotland, you will have the option of honing your 'wayfinder' skills.
In ancient times, wayfinders were people who found a new way ahead without a trail to follow, relying on their inner guidance and skill to locate a new home, find the herd for the hunt, or work with the spirits to heal the tribe.
There are skills that were used by wayfinders in cultures around the world for centuries. Many of them have been updated for modern living, and during your 3 days, you will have the opportunity to practice some of them.
So you will have a chance to learn how to:
use simple techniques to energise and heal your body
use enjoyment as a spiritual practice
practice the '4 Technologies of Magic' (as described in Martha Beck's Finding Your Way In a Wild New World)
Many people find learning and practicing these skills in the magical places in Scotland to be the best part of the experience. You can learn more in our article Wayfinder Skills or How to Enjoy Saving the World but if it's not for you, feel free to leave it and just focus on enjoying everything else on offer!
Meet your tribe
Our experience with guests is that they tend to share a passion for making the world a better place, and really enjoy being in each other's company. Many are usually a bit introverted and don't love the idea of a group of strangers, but as soon as our guests meet each other, there's a click of recognition that lets them know immediately these are my kind of people. Guests become friends, often for life.
And this experience is just the beginning. Over time, we will be introducing additional experiences, but this is the first. Now is your chance to begin shaping the future, both your own and that of your tribe.
So welcome. We're going to have an amazing adventure together.
Here's a guide to what each day entails, but be sure to contact us with any questions. We love to meet every one of our guests, our soon to be friends.
[/et_pb_text][et_pb_divider admin_label="Divider" color="#8e8e8e" divider_style="solid" divider_position="top" divider_weight="1px" hide_on_mobile="on" disabled="off"] [/et_pb_divider][et_pb_text admin_label="Text" background_layout="light" text_orientation="left" use_border_color="off" border_style="solid" disabled="off"]
Itinerary
Day 1:
12pm Pickup from Dunkeld/Birnam train station
The Hermitage
Bamff Estate
Ancient firemaking
Dinner over campfire
Day 2:
Hands-on session with herbal chocolatier
Crannog Centre
Standing stones
Campfire
Night walk
Day 3:
Glamis Castle
Garden picnic
Closing session
2pm departure
[/et_pb_text][et_pb_gallery admin_label="Gallery" gallery_ids="570,155,495,507,559,571,506,296″ fullwidth="off" posts_number="8″ show_title_and_caption="on" show_pagination="off" background_layout="light" auto="off" auto_speed="7000″ caption_all_caps="off" use_border_color="off" border_color="#ffffff" border_width="1px" border_style="solid" disabled="off"] [/et_pb_gallery][et_pb_text admin_label="Text" background_layout="light" text_orientation="left" use_border_color="off" border_style="solid" disabled="off"]
Accommodation
You will stay on the Bamff Estate, by Alyth in beautiful Perthshire.
Discover the wild beaver dams, natural regeneration, or track the roe deer and red squirrels at dusk.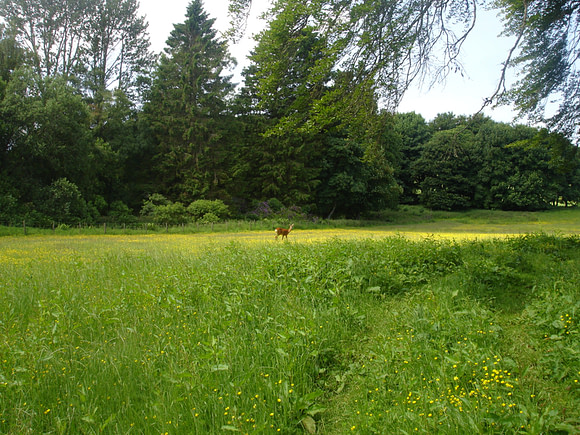 At night you are lulled to sleep beneath the stars to the sounds of owls and wind in the trees.
The backdrop to your stay is the picturesque Bamff Castle, owned by the Ramsay family who manage the estate as an organic farm with bio-diversity and eco-tourism.
You mustn't miss the beavers!
Find out more about Staying at Bamff.
What about food?
A sumptuous picnic on castle grounds is included in the price of the tour experience. All other meals will be your choice, either self-catering or at restaurants in nearby Alyth or Blairgowrie. 
There are shops, pubs, a bakery and cafes in Alyth, nearby. In season there is lots to forage too. 
How to get here?
There is ample car and bike parking, whilst those wishing to use public transport can catch the 57 bus from Perth or Dundee to Alyth. Services are hourly and traverse scenic countryside.
Find out more
Get in touch with us to find out more about this tour experience or make your booking. Tour groups are no larger than 6 persons.
[/et_pb_text][et_pb_button admin_label="Button" button_url="https://fivesensesrewilding.com/contact-us/" url_new_window="off" button_text="Book or Enquire" button_alignment="left" background_layout="light" custom_button="off" button_text_size="20″ button_letter_spacing="0″ button_use_icon="default" button_icon_placement="right" button_on_hover="on" button_letter_spacing_hover="0″ disabled="off"] [/et_pb_button][/et_pb_column][et_pb_column type="1_3″][et_pb_cta admin_label="Call To Action" title="Details" button_url="https://fivesensesrewilding.com/contact-us/" url_new_window="off" button_text="Book or Enquire" use_background_color="on" background_color="#991d52″ background_layout="dark" text_orientation="left" use_border_color="off" border_color="#ffffff" border_style="solid" custom_button="off" button_letter_spacing="0″ button_use_icon="default" button_icon_placement="right" button_on_hover="on" button_letter_spacing_hover="0″ disabled="off"]
Price: £385/person for 3 days, 2 nights
Price Includes: 2 nights' accommodation at luxury yurts (or cottages for additional fee), picnic lunch, all transport costs
[/et_pb_cta][/et_pb_column][/et_pb_row][/et_pb_section]