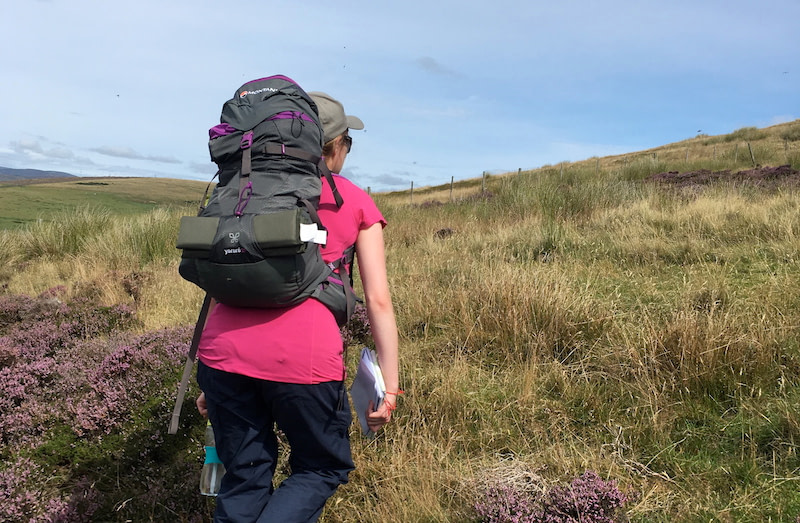 Would you like to feel the freedom of doing your own thing outdoors, to be able to access nature therapy and fresh air in a way that suits you?
Are you someone who feels you don't have the speed, fitness and power to just muscle through and endure pain when it comes to exercise?
Then join us for two mini "Yomp" training days. As featured in the Courier, Malcolm will be guiding people to discover their hidden potential, learn how to achieve more, grow in confidence and get more from the outdoors.
The Cateran Yomp takes place in June each year, conveniently near the days of longest daylight, as competitors will likely need every bit of the 24 hours to complete the challenge of walking 22, 36 or 54 miles in one go.
This is an exciting opportunity to get outdoors and learn some skills, thanks to ABF the Soldiers' Charity that created the crazy but wonderful Cateran Yomp!
Our aim is to pass on our experience gained over a life time of walking in wild places, long distance walking in Iceland, Canada and the UK, without you having to go through the same pain and hardship.
Learn smart ways to increase your performance; how to walk better, when to drink and refuel, and what foods work best. Warm ups, stretches and techniques borrowed from yoga and reflexology to increase protection of feet, tendons and rest of your body.
Get tips in navigation, choosing the right equipment, stamina training and mental techniques and resilience.
This is about brains, not brawn; about doing things the smart way, not the hard way.
Also, in true Five Senses style, your day will include chocolate and finish with a high tea at Glenisla hotel. Plus, you will be raising some money for charity by participating!
Like the British cycling successes in Olympics and Tour de France as a result of marginal gains and attention to incremental improvement, I will show people what to eat, how and when to gain extra minutes and metres on the Trail, making life easier.
And to prove it works, I have signed up to do the Cateran Yomp Gold myself, a distance of 54 miles in under 24 hours! That's never easy.
Who is this for?
Novice walkers. If you go walking with a group, take your dog or boyfriend for strolls and sometimes like getting out into nature but feel not fully prepared, if you wish you could do more but feel intimidated by those who seem super fit or if you struggle with pain /motivation /low energy /injury or depression, this is for you.
Whether you are in your 60's or 20's, single or with friends, you will find this a stepping stone to a more active, energising future outdoors.
How hard will it be?
This is not the Yomp! We are not looking to push ourselves hard physically but there will be about 3 hours of walking and activities and you will need to be dressed for the outdoors – but if you choose to come barefoot you will be rewarded!
What is a yomp?
The term was popularised by journalists following the 1982 war in the Falklands, and then meant a forced march over rough ground carrying heavy equipment. The Royal Marines and Parachute Regiment covered 56 miles in 3 days, carrying 36 Kg loads.
This is nothing new, as armies, often made up of clansmen and drafted labourers, marched across the length of England to defend against Viking and Norse invasions.
So, yomping is hard, extraordinary and against the clock!
However, it is no longer a macho military pursuit and is now part of fitness training and challenge walks, along with events like the 3 Peaks Challenge, Marathons or the Coast to Coast. These bring huge personal gain for participants and raise large amounts for charities.
Cateran Yomping is special though, in that is takes you through Cateran Country, rugged, beautiful countryside, heather moorland and grassland, on the edges of the Scottish Highlands, with a complete support network of feed and drink stations, foot massage, medical back up, cheering supporters (including my son who loves to see yompers pass our home) and the camaraderie and teamwork that can take you further than you ever imagined possible.
However, you can use this unique training for something other than preparing for the Yomp (though it'd be great if you did sign up and raise money for charity) – you can use it to gain self-confidence, skills and fitness and undertake walks at your own pace.
Perhaps you want to do the Cateran Trail over a number of weekends, or wish to explore the West Highland Way or Wainwright's Coast to Coast? Maybe the Camino de Santiago is calling? Maybe those dogs need extra exercise, or you wish to show your family and friends what you can really do!
Event Information
Guaranteed to get you ready for a season outdoors and if looking for a 2019 challenge you'll gain crucial skills relating to the Cateran Yomp, set to take place on the trail over the weekend of 8-9 June 2019.
When: Saturday 16th March and Sunday 12th May 10.30 am – 2.30 pm
Price: Tickets £50 including High Tea with donation going to ABF The Soldiers' Charity.
Where: Meet-up point The Glenisla Hotel, Kirkton of Glenisla, Blairgowrie, PH11 8PH